Top 5 Panama City Beach Attractions
Shell Island Excursions
Shell Island is a natural, undeveloped island which lies between the Gulf of Mexico and St. Andrews Bay and is located in Bay County, Florida (Panama City - Panama City Beach). It's home to one of the world's highest concentrations of bottle-nosed dolphins, and the island's pristine beauty and abundant wildlife make an enjoyable and exciting way to spend the day.
Pier Park Shopping / Restaurant / Entertainment Complex
Pier Park is located just across from the beach at the City Pier and fronts both Back Beach Road and Front Beach Road. Pier Park is the largest shopping/dining/entertainment venue in Northwest Florida with over 1 million square feet of shops, restaurants, movie theaters, etc.. This open air pedestrian friendly mall includes visitor favorites like Jimmy Buffet's Margaritaville, the Back Porch, Guy Harvey's Island Grill, Ron Jon Surf Shop, a 16 screen movie theater, the Hofbrau beer garden in addition to several large chain stores (Target, JCPenney, etc.) and many smaller local retailers.
Gulf World Marine Park
This long time family favorite was renovated in 2000 and now offers even more opportunities for getting up close and personal with the animals. Offers an opportunity for both entertainment and education for everyone in the family.
Shipwreck Island Water Park
- the Gulf Coast's #1 water park Panama City Beach, Florida's Shipwreck Island Water Park is just what you need to get you and your family away from the beach, but still splash in the sun! Panama City Beach's only major water park, located just across the street from Miracle Strip amusement park.

Shipwreck Island Water Park
12000 Front Beach Rd.
1 800 538-7395
Zoo World Zoological and Botanical Park
More than 350 animals, including rare and endangered creatures, are displayed in Zoo World Zoological and Botanical Park on Front Beach Road in Panama City Beach. Big cats, reptiles, orangutans and other primates are all part of the entertaining and educational experience at this unusual zoo, an active participant in The Species Survival Plan. SSP was established in 1980 by international zoological authorities for the purpose of protecting the world's most severely endangered animal species. Petting Zoo.
Zoo World
9008 Front Beach Road
(850) 230-1243
Other Popular Panama City Beach Vacation Attractions

Audubon Island
A little strip of land, the creation of a dredging project, right in the middle of commercial shipping traffic that became such a natural 'hotspot' for seabirds that the governor of Florida designated the little island as 'Audubon Island Wilderness Preserve'.Gulls, skimmers and hundreds of brown pelicans make this their nesting site. Bird watchers will want to take your boat or a charter over to this most interesting place near Hathaway Bridge. It's for the birds!
(850) 233-5140

Barnacle Bay
11209 Front Beach Road (850)234-7729

Bay Seaplanes, Inc.
6426 W. Hwy 98
(850) 234-1532

Beach Bingo
8340 Front Beach Road
(850) 234-3010

Blue Lagoon Mini Golf
8744 Thomas Drive
(850) 235-8020

Bungee Mania
10279 Front Beach Road
(850)233-1132

Captain Anderson Dinner Cruise
5550 N. Lagoon Drive
(850) 234-5940

Cliff Hangers
10333 Front Beach Road
(850) 234-1425

Coastal Parasailing
call for locations
(850)233-0914

Coconut Creek Mini
Golf and Gran Maze
9807 Front Beach Road
(850) 234-2625

Dan Russel Municipal Pier
16101 Front Beach Road
(850) 233-5080

Deerpoint Lake
Imagine a huge freshwater lake that you can take a boat on for miles and miles! Fishing, skiing, do it all on beautiful Deerpoint Lake.
About a 30-minute drive from Panama City Beach.
Visitor Center (850) 233-5140

Different Strokes Golf Center
1703 Thomas Drive
(850) 230-9973

Diving Excursions
There are over 50 artificial reef sites to dive on including old Navy stages, and Fifteen 35-foot-high bridge spans, each one 160 feet long! If that is not enough for you, you can travel inland to several area crystal clear springs. (The ones you read about in the diving magazines.) Any local dive shop can tell you about the local spring diving.
Call (850) 234-8717

Ebro Greyhound Park
State Hwy 79
(850) 234-3943

Eden State Park
Visit a post-civil war mansion standing majestically in the midst of huge oaks and beautiful gardens. The tour lasts about 30 minutes and you can drive to this historic site in about the same time, just west of the beaches.
For more information Call (850) 231-4214.

Edgewater Cinema 10
Shoppes at Edgewater
(850) 234-9232

Emerald Falls Raceway and Fantasy Golf
8602 Thomas Drive
(850) 234-1049

Falling Waters State Park
Over 900 feet of boardwalks take you by numerous sinkholes. One features a 67-foot waterfall cascading down into a 100-foot deep sinkhole. Golf, swimming and camping is right there. This day trip starts with about a one-hour drive north of the beaches.
For more information Call (850) 638-6130.

Fast Tracks
9802 Front Beach Road
(850) 233-0997

Florida Caverns State Park
This is Florida's only limestone cave that is available to the public. Guided tours occur regularly with nature trails, swimming, canoeing, camping and fishing nearby. About a 1 &1/2 hour drive from the beaches.
For more information Call (850) 482-9598.

Fun Boat Rentals
5711 N. Lagoon Drive
(850) 233-7999

Fun City
13624 Front Beach Road
(850) 234-1127

Fun Land Arcade & Snack Bar
14510 Front Beach Road
(850)234-3693

Glass Bottom Boats
Come see the ocean from a different perspective!
Treasure Island Marina
(850) 234-8944



Goofy Golf
12206 Front Beach Road
(850) 234-6403

Great Adventures Amusement Company
15236 Front Beach Road
(850) 230-1223

Great Adventures Water Sports
8011 Thomas Drive
(850) 234-0830

Gulf World
Sea Lions, seals, dolphins and other aquatic animals!
15412 Front Beach Rd.
(850) 234-5271

Hathaway Boat Rental
6426 W. Hwy 98
(850) 230-0748

Hidden Lagoon Racetrack
14414 Front Beach Road
(850) 233-1825

Hidden Lagoon Super Golf
14414 Front Beach Road
(850) 234-9289

Indy Speedway
8762 Thomas Drive
(850) 234-1121

Island Waverunner Tours
3605 Thomas Drive
(850) 234-SAIL

J & D Sailing
772 Patronis Drive
(850) 896-7525

M.B. Miller Pier
12213 Front Beach Road
(850) 233-3039

Miracle Strip Amusement Park
Enjoy Roller Coasters, Putt Putt Golf, and Go Carts.
12000 Front Beach Rd.
(850) 234-5810
(800) 538-7395

Museum of Man in the Sea
Maritime Museum
17314 Back Beach Rd.
(850) 235-4101

Noah's Ark Beach Ministry
12902 Front Beach Road
(850) 234-6062

Ocean Opry Music & Comedy Show
8400 Front Beach Road
(850) 234-5464

Paint Ball Kombat
12409 Front Beach Road
(850) 235-4020

Panama City Beach Sports
St. Andrews State Park
Call for locations
(850) 234-0067

Panama Speedway
9941 Thomas Drive
(850) 234-7007

Pirates Island Adventure Golf
9518 Front Beach Rd.
(850) 235-1171

Pro-Track Speedway
9703 Front Beach Road
(850) 235-2623

Sea Dragon
3605 Thomas Drive
(850) 234-7400

Shell Island
You owe it to yourself and your family to take a trip to Shell Island, just across the water from St. Andrews State Park. Accessible only by boat, Shell Island is true unspoiled beach landscape. Swim, snorkel, collect shells, or just walk the sparkling white sand for miles. Sightseeing trips to Shell Island depart daily.
(850) 233-5140

Shipwreck Island Water Park
12000 Front Beach Rd.
(850) 234-0368 or 1 800 538-7395

Shipwreck Mini Golf
12000 Front Beach Road
(850) 234-3912

Skull Island Mini Golf
3622 Thomas Drive
(850) 230-9000

Sports Park
15238 Front Beach Road
(850) 235-1081

Super Speed Fun Park
9523 Front Beach Road
(850) 234-1588

St. Andrew State Recreation Area
Swimming, fishing, and nature trail hiking
4607 State Park Lane
(850) 233-5140

Wakulla Springs
Don't miss this! One of the largest and deepest fresh water springs in the world. Daily run boat trips not only show you the spring, but also take you for a river cruise to see alligators and other Florida wildlife. For park hours contact Wakulla Springs for information.
For more information Call (850) 224-5950.

ZooWorld
Exotic animals in natural habitat
9008 Front Beach Road
(850) 230-1243
Click below to return to:
Panama City Beach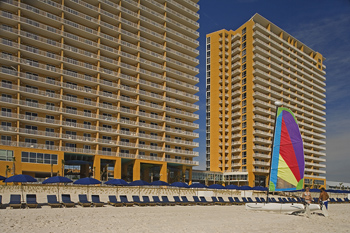 Splash Resort offers a lazy river, water park, mini bowling alleys, dive in movies, splash pad, etc. w/ 1,2 & 3Br Condos
Read more >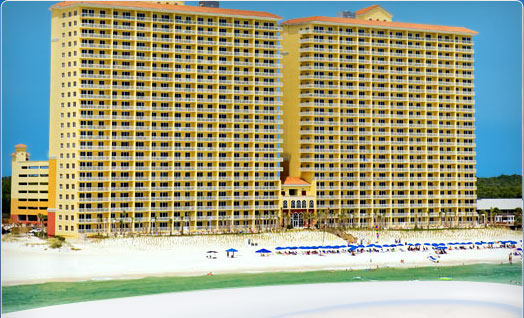 Calypso Resort offers 1,2 & 3 Br oceanfront luxury condos with many amenities. Located beachfront at Pier Park.
Read more >